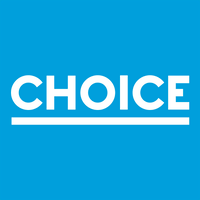 Set up by consumers for consumers, CHOICE is the consumer advocate that provides Australians with information and advice, free from commercial bias. As vital today as when we were founded in 1959, CHOICE continues to fight for consumers and uncover the truth
Today, our work includes:
Product Testing and Reviews: CHOICE is Australia's largest source of expert reviews. Based on unbiased analysis and rigorous testing, we help consumers compare products and services and select what's best for them.

News and Investigations: Choice doesn't accept advertising or sponsorship. This means we can uncover the truth about everyday consumer issues and provide practical advice to help consumers cut through the spin.

Campaigning and Policy: By mobilising Australia's largest and loudest consumer movement, CHOICE fights to hold industry and government accountable and achieve real change on the issues that matter most.
Working for CHOICE means more than working for Australia's leading consumer organisation; it also means improving people's lives every day.